Want to download ArchiMate guide or ArchiMate software? Looking for free ArchiMate downloads? Here is a list of popular ArchiMate resources ready for downloading.
Download ArchiMate

If your organization is a member of The Open Group ArchiMate Forum, you may download and use ArchiMate internally under a personal annual Member License. Besides, you may download ArchiMate Version 2.1 under a free, personal, 90-day Evaluation License; and you may then go on to use it internally under a free, perpetual, Corporate License or a free, perpetual, Academic License, if you wish. Alternatively, you may take out an annual Commercial License.
To download or to learn more about the download procedure and license, visit The Open Group.
Download ArchiMate Specification
The latest version of the ArchiMate Specification is version 3.1 released November 2019. To download ArchiMate, visit The Open Group's ArchiMate Licensed Downloads page.
Download ArchiMate software
Certified by The Open Group, Visual Paradigm is an ArchiMate software that supports the ArchiMate 3 specification.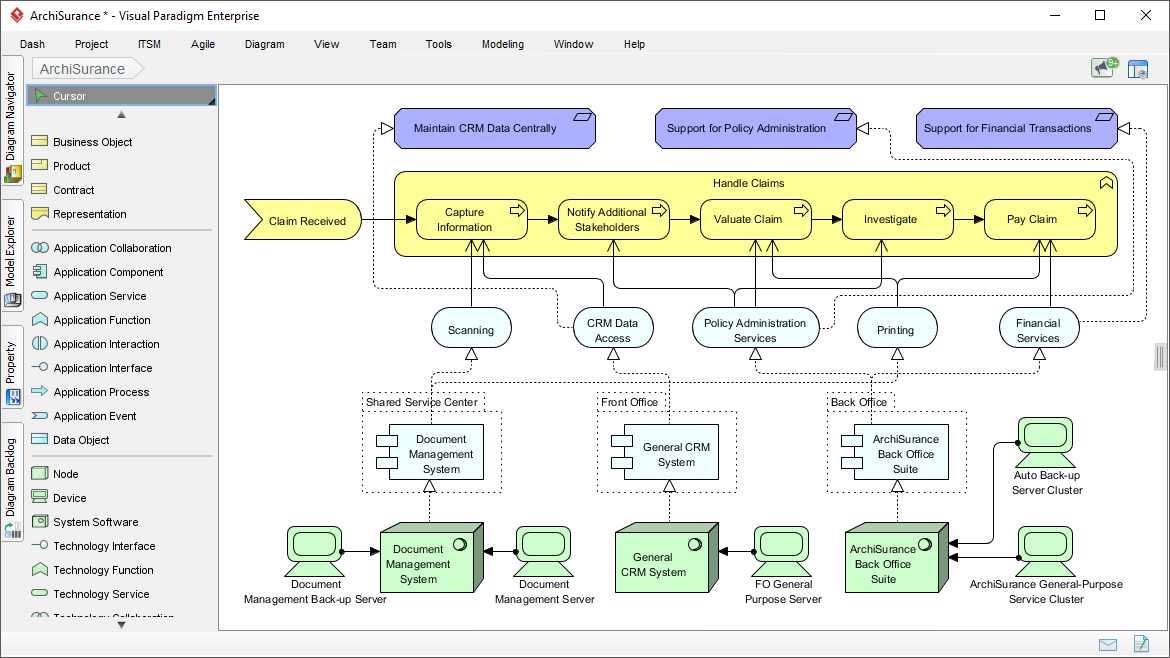 What can I do with Visual Paradigm?
Visual Paradigm is a full-featured modelling platform for creating ArchiMate models and other diagrams. It is used by Enterprise Architects from all over the world. Here is a short list of things you can do with Visual Paradigm:
Create ArchiMate diagrams

Access to full set of ArchiMate notations
Use ArchiMate viewpoints
Ensure the correctness of modeling syntax with syntax checking on-the-fly
Easy-to-use drag-and-drop ArchiMate editing tool
Quick diagram creation with the Resource-Centric interface
Precise positioning of shapes with alignment guide
Inline shape editing
Alignment and distribute functions
Rich set of formatting options

Maintain ArchiMate model

Group ArchiMate models by packages / model shapes
Model traceability

Team collaboration

Work with the EA teams and other modelers concurrently and collaboratively with team collaborative features
Keep revisions for your ArchiMate diagrams
Smart conflict resolution for conflicted changes

Publishing / Sharing

Publish and share ArchiMate diagrams online
Export diagrams as image files

Document creation
Coverage of additional model types
TOGAF support

Visual TOGAF ADM process map with actionable work items
Produce deliverable as you progress through the enterprise architecture development cycle
Additional Enterprise Architecture toolset
How to download the ArchiMate software – Visual Paradigm?
Visual Paradigm comes with 30 days trial period. You can visit our download page to download Visual Paradigm.