Mastering Project Management: A Comprehensive Guide to PMBOK Principles with Real-World Examples
The Project Management Body of Knowledge (PMBOK) is a widely recognized and comprehensive guide to project management. Developed by the Project Management Institute (PMI), PMBOK provides a structured framework for managing projects effectively. In this tutorial, we will explore the key concepts of PMBOK with examples to help you understand and apply project management principles in real-world scenarios.
1. Introduction to PMBOK
PMBOK is divided into two main components: process groups and knowledge areas. It outlines a systematic approach to managing projects, emphasizing the importance of standardized processes and knowledge areas.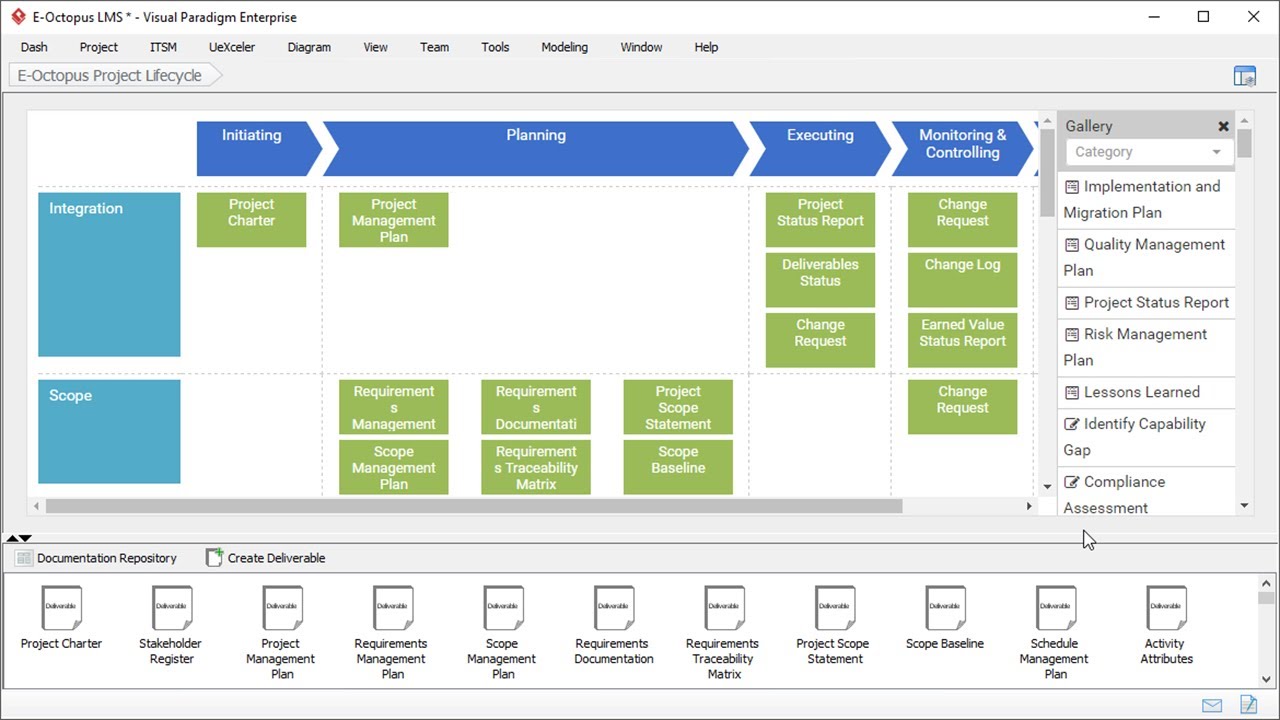 2. Project Management Process Groups
There are five project management process groups in PMBOK:
Initiating: This group focuses on defining the project's purpose and objectives. Example activities include developing a project charter and identifying stakeholders.
Planning: In this group, detailed planning activities occur. You create a project management plan that outlines how you will carry out the project. Examples include defining scope, creating a schedule, and determining a budget.
Executing: Here, the project team carries out the plan. Tasks include coordinating people and resources, managing stakeholder expectations, and ensuring quality control.
Monitoring and Controlling: Throughout the project, you track and review performance. If deviations from the plan occur, corrective actions are taken. Examples include performance measurement, quality control, and issue resolution.
Closing: When the project is complete, this group ensures all work is finished, stakeholders are satisfied, and the project is formally closed. Activities include obtaining acceptance, releasing resources, and conducting lessons learned sessions.
3. Project Management Knowledge Areas
There are ten knowledge areas in PMBOK:
Project Integration Management: Ensuring all project elements work together. Example: Developing a project management plan that aligns with the project's goals and objectives.
Project Scope Management: Defining, verifying, and controlling the project's scope. Example: Creating a detailed project scope statement.
Project Schedule Management: Developing and controlling the project schedule. Example: Creating a Gantt chart to display project timelines.
Project Cost Management: Estimating, budgeting, and controlling project costs. Example: Developing a project budget.
Project Quality Management: Ensuring the project meets quality standards. Example: Conducting quality audits.
Project Resource Management: Managing human and physical resources. Example: Assigning team members to project tasks.
Project Communications Management: Ensuring effective project communication. Example: Creating a communication plan.
Project Risk Management: Identifying and managing project risks. Example: Conducting a risk analysis.
Project Procurement Management: Procuring goods and services from external sources. Example: Selecting a vendor through a procurement process.
Project Stakeholder Management: Managing stakeholder expectations and engagement. Example: Holding regular stakeholder meetings.
4. PMBOK Processes
PMBOK defines 49 processes that fall into the process groups and knowledge areas mentioned above. These processes provide a step-by-step guide on how to manage projects. Here are a few examples:
Develop Project Charter (Initiating): This process involves creating a project charter that formally authorizes the project's existence. It includes identifying stakeholders and understanding their needs.
Plan Scope Management (Planning): In this process, you define how project scope will be managed, including creating a detailed scope statement and a Work Breakdown Structure (WBS).
Direct and Manage Project Work (Executing): This process involves coordinating people and resources to execute the project work as defined in the project management plan.
Monitor and Control Project Work (Monitoring and Controlling): Here, you track, review, and regulate the project's performance to ensure it aligns with the project management plan.
Close Project or Phase (Closing): This process formalizes the project closure, including obtaining formal acceptance, releasing project resources, and conducting a project review.
5. PMBOK Example Project
Let's walk through an example project using PMBOK principles:
Project: Building a Website for a Small Business
Initiating: Develop the project charter, identify stakeholders (e.g., business owner, web developer).
Planning:
Plan Scope Management: Define the project scope and create a WBS.
Plan Schedule Management: Create a project schedule.
Plan Cost Management: Develop a budget for the project.
Plan Quality Management: Identify quality standards for the website.
Plan Resource Management: Assign tasks to team members.
Plan Communications Management: Establish a communication plan.
Plan Risk Management: Identify potential risks and develop a risk mitigation plan.
Plan Procurement Management: Decide whether to hire external web developers or use in-house resources.
Plan Stakeholder Management: Determine how to engage with stakeholders.
Executing: Develop the website according to the project plan, manage team members, and communicate progress to stakeholders.
Monitoring and Controlling:
Monitor and Control Project Work: Track the progress of website development and compare it to the project schedule.
Perform Quality Control: Ensure the website meets quality standards.
Control Costs: Monitor project spending and make adjustments as necessary.
Control Risks: Continuously assess and address project risks.
Control Procurements: Oversee external web developers if hired.
Monitor Stakeholder Engagement: Keep stakeholders informed and address any concerns.
Closing: Obtain formal acceptance from the business owner, release project resources, and conduct a project review to identify lessons learned.
Using Visual Paradigm Just-in-Time PMBOK Tool
Visual Paradigm's Just-in-Time PMBOK Tool is a powerful solution designed to streamline project management processes, making them more flexible, efficient, and tailored to your specific needs. With customizable PMBOK Process Maps and an array of features, this tool empowers you to kick-start projects of any size with ease. In this overview, we'll explore the key features and benefits of this tool.
Key Features
1. Just-In-Time Process Customization
Overview: Start projects swiftly by customizing PMBOK-based processes just-in-time.
Benefits: Reduce upfront investments, training, and resource requirements while adhering to industry standards.
2. Work Item Composer
Overview: Create reusable work items, including forms, meeting templates, diagrams, and more.
Benefits: Simplify process customization and ensure consistency across projects.
3. Deliverable Automation
Overview: Generate deliverables effortlessly using pre-defined templates or create your own with the Just-in-Time Doc Composer.
Benefits: Eliminate time-consuming manual document creation, ensuring accuracy and efficiency.
4. Process Repository
Overview: Maintain a clear and organized project management repository.
Benefits: Easily access and reference project-related information and templates.
Addressing Your Challenges
Challenge 1: Getting Started with Enterprise Architecture
Solution: Visual Paradigm's Just-In-Time Process eliminates upfront investment hurdles, allowing you to begin development swiftly with minimal resources.
Challenge 2: Tailoring Standard Processes
Solution: Customize standard processes such as PMBOK, PRINCE2, or ITIL to align with your unique requirements using drag-and-drop functionality.
Challenge 3: Creating Reusable Work Items
Solution: Develop and store your own work items, forms, templates, and diagrams, ensuring they can be easily reused in future projects.
Challenge 4: Tedious Deliverable Production
Solution: Automate the generation of project deliverables, saving time and reducing errors.
Challenge 5: Streamlining Project Management
Solution: Implement an automated workflow that streamlines project management, enabling quicker responses to change and maintaining competitiveness.
Conclusion
6. Conclusion
PMBOK offers a comprehensive framework that lays the foundation for effective project management. By mastering its five process groups, ten knowledge areas, and the associated processes, you gain the essential tools to plan, execute, monitor, and control projects, ultimately enhancing the likelihood of successful project outcomes. It's crucial to recognize that successful project management often hinges on adapting and customizing PMBOK principles to suit the unique requirements of each project.
Visual Paradigm's Just-in-Time PMBOK Tool complements this approach by empowering project managers and teams to efficiently tailor and automate project management processes. Whether you're aligning with industry standards, creating reusable work items, or streamlining project workflows, this tool offers the flexibility and efficiency needed to excel in today's dynamic project environments. Bid farewell to one-size-fits-all methodologies and embrace the era of customized, just-in-time project management with Visual Paradigm. Together with PMBOK, it equips you with the capabilities to navigate the complexities of modern projects successfully.