Maximize Your Team Efficiency and Productivity with Visual Paradigm's PMBOK Tool
Are you tired of grappling with the complexities of Project Management? Struggling with steep learning curves and soaring costs of hiring certified professionals? Visual Paradigm has the solution you've been searching for! Our customizable PMBOK® Step-by-Step Guide-Through Approach is here to revolutionize your IT project management experience, all while keeping costs to a minimum.
Out-of-the-Box Project Management in PMBOK Template
In the world of Project Management, finding relevant information can be a daunting task, consuming precious hours of your time. Visual Paradigm simplifies this process by offering an all-in-one solution. Our PMBOK tool provides inline, step-by-step instructions and samples for each project management phase, ensuring you have the guidance you need at your fingertips.
Just-in-Time PMBOK Template
Visual Paradigm understands that time is of the essence when it comes to project management. Our "just-in-time, just-enough" PMBOK template allows you to learn and use only what you need, when you need it. With clear instructions and a user-friendly interface, you can streamline your project management process without any hassle.
Project Management Repository
Unlock the full potential of your IT projects with Visual Paradigm's Project Management Repository. Our tool follows one of the most widely used PMBOK® process templates, complete with pre-defined forms, instructions, and samples. This enables your team to kick-start the entire project management process for incremental and collaborative deliverable development.
Effortless Project Management Navigation
Visual Paradigm empowers you to overview and navigate the entire project management process within the Just-In-Time Process. Drill down into different development phases to manage and collaborate with your team seamlessly. Kickstart your IT projects with a "just-in-time" and "just-enough" approach, eliminating unnecessary complexities.
Form-Filling Deliverable Composer
Say goodbye to worries about deadlines. Visual Paradigm's unique guide-through process ensures your team can perform essential analysis, gather vital information, and incrementally compose, store, and achieve deliverables. With our step-by-step approach, getting things done has never been easier.
Real-Time Progress Tracking
Stay on top of your project's progress effortlessly. Visual Paradigm's Project Progress Indicators update the status of phases, activities, and steps as your team moves from one task to another. You'll always know exactly where you stand.
Efficient Information Management
Information and deliverables are crucial assets in project management. Visual Paradigm's tool archives them in a configurable virtual cabinet, categorized under different segments. Relevant deliverables are automatically embedded as input references for subsequent development activities, streamlining the refinement, touch-up, and updating process.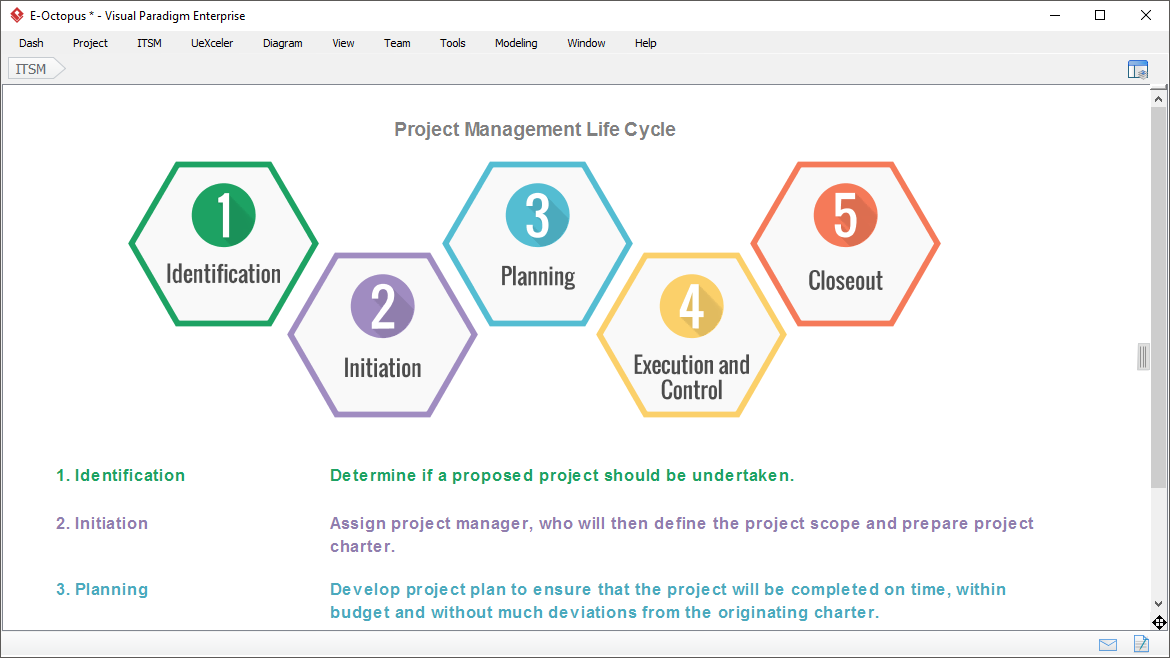 Don't let project management complexities hold your team back. Maximize efficiency and productivity with Visual Paradigm's PMBOK tool today! Say goodbye to steep learning curves and skyrocketing costs – get started with Visual Paradigm's customizable PMBOK® Step-by-Step Guide-Through Approach and transform the way you manage IT projects. Try Visual Paradigm for free and experience the difference for yourself. Your project management journey just got a whole lot easier!