Unlock the Power of Data Flow Diagrams (DFD) with Visual Paradigm
In today's fast-paced world, information systems are the backbone of successful businesses. Understanding and representing the flow of data within these systems is crucial for effective design and communication. That's where Visual Paradigm steps in, offering a robust and all-encompassing solution for your Data Flow Diagram (DFD) projects.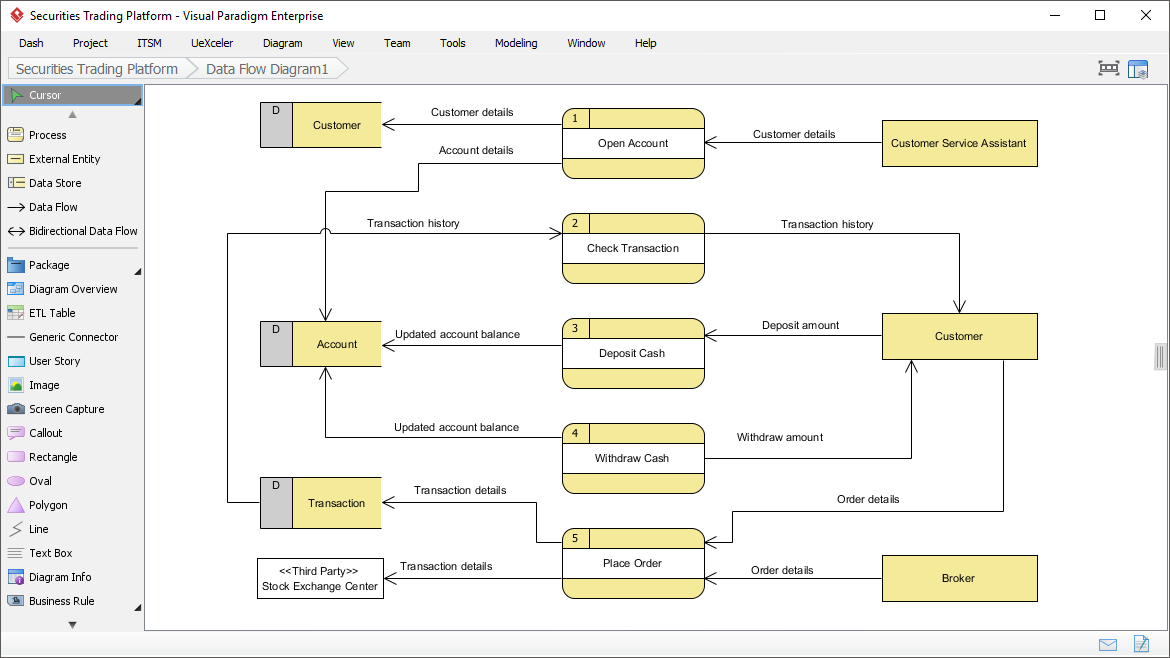 Challenges Resolved
1. Seamless Integration
Tired of using separate solutions for DFD and other diagram types? It's time to simplify your workflow. Visual Paradigm seamlessly integrates DFD tools with various diagram types, making traceability between designs a breeze. Connect your system processes and business activities effortlessly.
2. Robust Reporting
Need to produce DFD specifications that support effective communication? Visual Paradigm excels in providing robust reporting features. Say goodbye to the hassle of searching for a product that can meet your reporting needs.
3. Multi-Modeling Support
Wishing for a solution that supports not just DFD but also other standards like BPMN for business modeling? Visual Paradigm offers a comprehensive suite of tools for all your modeling needs, making it easy to transition between different aspects of your project.
Visual Paradigm: Your All-in-One DFD Solution
Intuitive DFD Editor
Visual Paradigm's drag-and-drop DFD editor simplifies the creation of DFDs. Quickly and easily create diagrams while maintaining neatness with alignment guides. You'll have all the notations you need at your fingertips, including processes, external entities, data stores, and data flows. Plus, you can decompose processes and drill down into the next level of detail with sub-diagrams.
Advanced Collaboration and Versioning
Collaborate effectively with team members by publishing DFD diagrams online. Comments can be left directly on the diagram, facilitating feedback and action. With a versioning system, visual comparison tool, and branch-and-merge mechanism, keeping track of design changes has never been simpler.
Wide Standards and Diagram Support
Visual Paradigm goes beyond just DFDs. As an award-winning modeling software, it supports a wide array of standards and popular diagram types for various stages of your project:
System Design: Use UML, SysML, ERD, ORM Diagram, and more for system analysis and design.
Business Design: Visualize workflows with BPMN BPD, analyze customer experiences with Customer Journey Map, and create EPCs and Process Maps.
Project Management: Plan your project with tools like Work Breakdown Structure, Org Chart, and more.
Enterprise Architecture: Create ArchiMate diagrams with the latest notations and official viewpoints.
UX Design: Wireframes, wireflows, animation tools, and prototypes for effective UX design.
Experience the Visual Paradigm Advantage
Visual Paradigm offers not just a tool but an entire ecosystem to meet your DFD and modeling needs. With powerful features, seamless integration, and a commitment to simplifying your design and collaboration processes, Visual Paradigm is the go-to solution for businesses serious about their information system design.
Say goodbye to the challenges of disconnected solutions and hello to an all-in-one platform that empowers you to create, collaborate, and succeed. Try Visual Paradigm today and experience the future of DFD and diagramming tools. Your information system deserves nothing less.