Unlock the Power of Documentation with Visual Paradigm's Document Builder
In today's fast-paced business environment, clear and concise documentation is the key to success. Whether you're working on a critical project, creating comprehensive reports, or collaborating with your team, having a robust document builder can make all the difference. Visual Paradigm, a leading name in software development and project management, presents its Powerful Document Builder – a game-changer that simplifies the way you create reports and documents.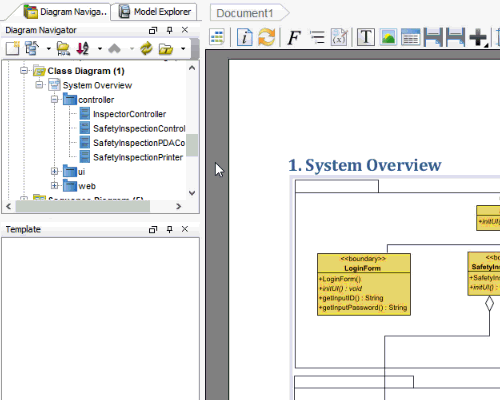 Simplicity Meets Power
Visual Paradigm's Powerful Document Builder is designed with simplicity in mind. Gone are the days of struggling with complicated formatting tools and laborious manual document creation. With our Document Builder, you can effortlessly build your reports by drag-and-drop model elements onto the document editor. It's that easy! Say goodbye to the hassles of traditional document creation, and embrace the efficiency and convenience of Visual Paradigm.
Thousands of Templates at Your Fingertips
We understand that every project is unique, and so are your documentation needs. That's why Visual Paradigm offers thousands of element templates for you to choose from. Whether you're working on a software design document, a business proposal, or a technical report, you'll find a template that fits your requirements. Our extensive library ensures that you have the perfect starting point for your document, saving you time and effort.
Create Your Own Templates
Visual Paradigm doesn't just stop at providing pre-made templates; we empower you to create your own. Our Document Builder allows you to design custom templates tailored to your specific needs. Whether it's a particular style, format, or branding requirement, you can easily craft templates that align with your organization's standards. Best of all, once you've created a template, you can reuse it across multiple reports, ensuring consistency and professionalism in all your documentation.
Efficiency Redefined
Visual Paradigm's Document Builder streamlines your workflow, allowing you to focus on what matters most – your content. With the drag-and-drop functionality and a wide range of templates, you'll complete your documents in record time. No more wrestling with formatting, margins, or layouts – our tool takes care of the technicalities, leaving you more time to concentrate on your ideas, data, and insights.
Seamless Integration
Visual Paradigm is committed to providing a holistic solution for your project management and documentation needs. Our Document Builder seamlessly integrates with our suite of tools, including diagramming, project management, and modeling features. This integration ensures that your documents are always up-to-date and in sync with the latest changes in your projects.
Try Visual Paradigm's Powerful Document Builder Today
Ready to revolutionize your document creation process? Visual Paradigm's Powerful Document Builder is your ticket to efficient, professional, and hassle-free documentation. Whether you're a project manager, business analyst, or software developer, our tool is designed to simplify your work and elevate the quality of your documents.
Don't settle for mediocrity when it comes to documentation. Try Visual Paradigm today and experience the difference. Say goodbye to the tedium of manual document creation and hello to the power of simplicity, templates, and efficiency. Your documents will never be the same again.