Unlock the Power of Efficient Business Operations with Visual Paradigm's Process Map Designer!
In today's fast-paced business landscape, staying competitive means optimizing your processes for maximum efficiency. Visual Paradigm's Process Map Designer is your key to unlocking the full potential of your business operations. Whether you're a seasoned professional or new to process design, our flexible 2D process map designer is designed to make your life easier and your processes more efficient.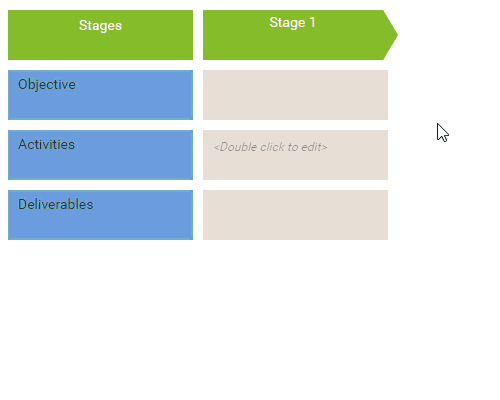 Matrix-Style Process Map Editor
Visual Paradigm's Process Map Designer offers a unique and intuitive matrix-style editor that revolutionizes the way you plan and design business operations. Say goodbye to cumbersome and rigid process design tools. With our matrix-style editor, you have the freedom to create dynamic and responsive process maps that adapt to your evolving needs.
Over 40 Business & Technical Process Templates
We understand that every business is unique, and that's why Visual Paradigm provides you with a diverse selection of over 40 pre-built business and technical process templates. Whether you're designing a workflow for project management, IT operations, or customer support, we have a template to kickstart your process design journey. You'll save valuable time and ensure consistency in your processes.
Unlimited Rows and Columns
No more limitations! Visual Paradigm's Process Map Designer lets you break free from restrictions with unlimited rows and columns. Your processes can now grow and adapt to the complexity of your organization without any constraints. This flexibility empowers you to capture every detail and refine your operations to perfection.
Configurable Data Format: Text, List, Bullet, and More
Visual Paradigm understands that data comes in many forms. That's why our Process Map Designer offers configurable data formats, including text, lists, bullets, and more. Tailor your process maps to your specific needs and ensure that your team understands every aspect of your operations.
Data Visualization with Charts
Numbers and statistics are essential for making informed decisions. Visual Paradigm makes data more meaningful by allowing you to visualize it with charts. Whether it's tracking performance metrics, analyzing bottlenecks, or monitoring resource allocation, our data visualization capabilities bring clarity to your processes.
Are you ready to take your business operations to the next level? Visual Paradigm's Process Map Designer is here to simplify your process design journey, providing you with the tools and flexibility you need to optimize your operations efficiently.
Don't miss out on this opportunity to enhance your process design capabilities. Join the ranks of successful businesses that have already harnessed the power of Visual Paradigm's Process Map Designer. Start your free trial today and experience the future of process design!
Unlock efficiency. Unlock potential. Unlock success with Visual Paradigm's Process Map Designer!