Unlock the Power of SysML Modeling with Visual Paradigm
In the ever-evolving world of systems engineering, having a robust modeling tool that can effortlessly handle both SysML and UML diagrams is crucial. That's where Visual Paradigm steps in, offering you everything you need in one place to streamline your modeling process and bring your ideas to life.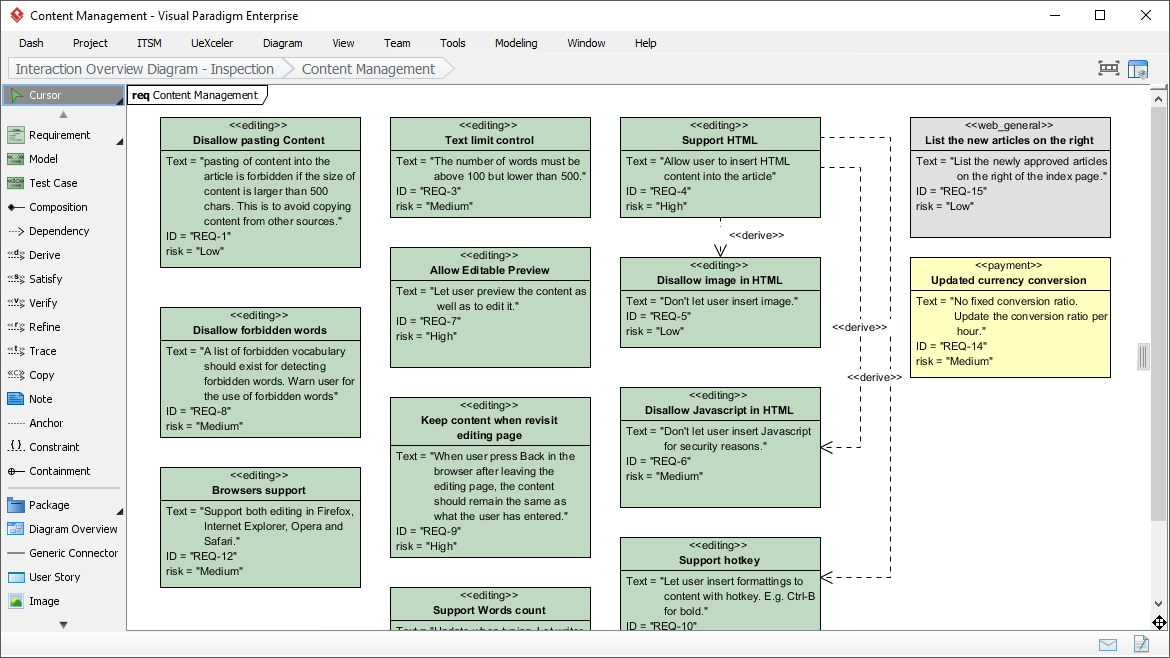 UML and SysML Support
Visual Paradigm isn't just your run-of-the-mill modeling tool. It's a versatile powerhouse that provides comprehensive support for both UML and SysML. Whether you're creating complex SysML diagrams or diving into the intricate world of UML, Visual Paradigm has got your back. Say goodbye to the hassle of juggling multiple tools – we've consolidated it all into one seamless experience.
Unleash Your Modeling Capability
Visual Paradigm empowers you with an array of modeling capabilities that make your work more efficient and error-free. Reusable elements, syntax checking, sub-diagrams – you name it, we've got it. Our goal is to elevate your modeling experience, ensuring every element of your design is meticulously crafted for success.
Efficiency at its Core
We understand that in the world of modeling, efficiency matters. That's why Visual Paradigm goes the extra mile to save you precious time. We care about the difference between a click and a drag – every action you take within our tool is optimized for efficiency, ensuring your modeling process is smooth and swift.
Cross Platforms Compatibility
Your modeling journey shouldn't be restricted by your choice of platform. With Visual Paradigm, you can model on any Java-enabled platform, whether it's Windows, Mac OS X, or Linux. Your creativity knows no bounds, and neither should your modeling tool.
Resource Catalog for Ultimate Convenience
Visual Paradigm's Resource Catalog is your one-stop shop for creating SysML diagrams effortlessly. With a simple drag and drop interface, you can construct any SysML diagram with ease. But that's not all – our Resource Catalog goes the extra mile by listing only the shapes allowable for your specific diagram, ensuring model syntax correctness at every step.
Real Modeling Tools, Not Just Drawing
Visual Paradigm isn't just another drawing tool; it's a robust modeler designed to bring your visions to life. Reuse elements across different models, maintain design correctness with syntax checking, and establish multiple levels of abstraction with sub-diagrams. Our tool is your partner in achieving the highest modeling standards.
Element Referencing for Precision
Need to add supplementary references or establish relationships among elements? Visual Paradigm makes it a breeze. Our Element Referencing feature allows you to add various types of references to model elements, including files, folders, UML elements, diagrams, and shapes. What's more, these references aren't confined to the editor – they seamlessly integrate with the documents you generate and publish.
If you've ever worked with a genuine modeling software, you'll immediately recognize the power and efficiency that Visual Paradigm brings to your modeling work. It's time to elevate your modeling game and unlock new possibilities with Visual Paradigm. Say hello to a world of SysML modeling made easy.