Elevate Your Enterprise Architecture Game with Visual Paradigm!
In the dynamic world of business and technology, staying ahead of the curve is not just a goal; it's a necessity. The key to success lies in mastering the art of Enterprise Architecture (EA) – the blueprint that shapes and optimizes your organization's journey toward excellence.
Visual Paradigm, your trusted partner in this journey, is here to redefine how you approach EA. Join us as we embark on an exciting exploration of cutting-edge tools and industry-best practices that have propelled the world's most renowned enterprises to unprecedented heights. Whether you're a seasoned architect or just beginning your EA adventure, get ready to be inspired, empowered, and equipped for success like never before.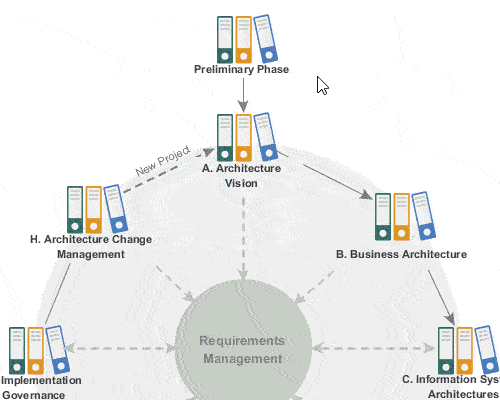 Welcome to the future of Enterprise Architecture with Visual Paradigm! 🚀🏢 #VisualParadigm #EnterpriseArchitecture #Innovation #BusinessExcellence
🚀 Elevate Your Enterprise Architecture Game with Visual Paradigm! 🚀
Are you ready to take your enterprise architecture to the next level? Look no further! Visual Paradigm is here to revolutionize your EA journey. 🌐🏢
🌟 Discover Industry-Unique TOGAF ADM Lifecycle Tools 🌟
Visual Paradigm proudly presents an exceptional set of tools specifically designed for Enterprise Architecture, including the industry-unique TOGAF ADM lifecycle tool. Trusted by the world's best-known enterprises, our platform empowers you to streamline your EA processes effortlessly.
🚶‍♂️ Seamlessly Navigate Through ADM Phases 🚶‍♀️
Say goodbye to confusion and complexity! Visual Paradigm's process navigation tool will be your trusted companion, guiding you step by step through the intricate phases of the TOGAF ADM. No more getting lost in the architecture wilderness!
📋 Take Action with Confidence 📋
With Visual Paradigm, taking actionable steps within the ADM process has never been easier. We provide you with clear guides and real-world examples, eliminating the need for extensive training. Start making impactful decisions right away!
🧰 A Wealth of ADM Tools at Your Fingertips 🧰
Our arsenal of ADM tools includes ArchiMate support, a powerful Capability Analysis tool, and an ADM deliverable tool in the form of customizable templates. Visualize, analyze, and deliver your architecture with unparalleled ease.
🚀 Auto-Generated TOGAF Deliverables 🚀
Why spend countless hours on documentation when Visual Paradigm can do it for you? Our platform automatically generates TOGAF-compliant deliverables, saving you time and ensuring accuracy.
Don't miss out on this opportunity to transform your enterprise architecture game. Join the ranks of the world's leading enterprises and experience the power of Visual Paradigm!
👉 Get started today: [www.visual-paradigm.com]