Mastering Enterprise Architecture with TOGAF and Visual Paradigm: Your Path to Seamless Success
In today's fast-paced business landscape, successful organizations understand the critical need for Enterprise Architecture (EA). It's the key to transforming fragmented applications and processes, both manual and automated, into an integrated environment. This integration optimizes processes, allowing your organization to swiftly respond to change and achieve its business strategies. But unmanaged complexity in your IT landscape can lead to increased costs and reduced flexibility, characterized by a lack of standards, redundant applications, multiple platforms, and inconsistent data.
Alignment between your business strategy and IT initiatives is more crucial than ever. Business transformation is reshaping the relationship between IT and your organization's overall objectives. Both internal and external forces demand greater responsiveness to customer needs and the attainment of operational and technological efficiencies.
Traditionally, IT professionals focused solely on technology architecture. Today, businesses require IT experts to have a deeper understanding of the business itself to ensure that technology solutions effectively support business requirements, vision, and strategy. This is where TOGAF® (The Open Group Architecture Framework) comes into play. TOGAF methods facilitate a profound understanding of your business and help you achieve IT results that align seamlessly with your business strategy, eliminating the barriers between technology capabilities and business objectives.
Unveiling TOGAF: Your Path to Enterprise Excellence
TOGAF, short for The Open Group Architecture Framework, is a globally recognized standard for developing enterprise architecture. It offers a comprehensive framework that includes techniques and a set of supporting tools to ensure that all architectural components align with your business's strategic direction.
The benefits of adopting TOGAF are manifold:
Better Overview: Gain a comprehensive view of your business landscape, reducing complexity.
Common Language: Ensure that everyone in your organization speaks the same language, fostering better communication.
Understanding Constraints: Get a clearer understanding of how your architecture constrains your business.
Open Standards: Seamlessly integrate with other open standards for a holistic approach.
Cost and Time Savings: Save time, money, and resources while utilizing them more effectively.
ROI Demonstration: Achieve demonstrable return on investment (ROI) through effective architectural decisions.
Shared Components: Develop shared or common architectural components to improve efficiency.
The TOGAF ADM Framework: Your Blueprint for Success
TOGAF introduces the Architecture Development Method (ADM) and supporting tools to tackle complexities in enterprise architecture development. It guides organizations in defining how they operate and design the processes and infrastructure vital to current and future operations. The ADM cycle offers an incremental and iterative method for designing Business, Data, Applications, and Technology architectures.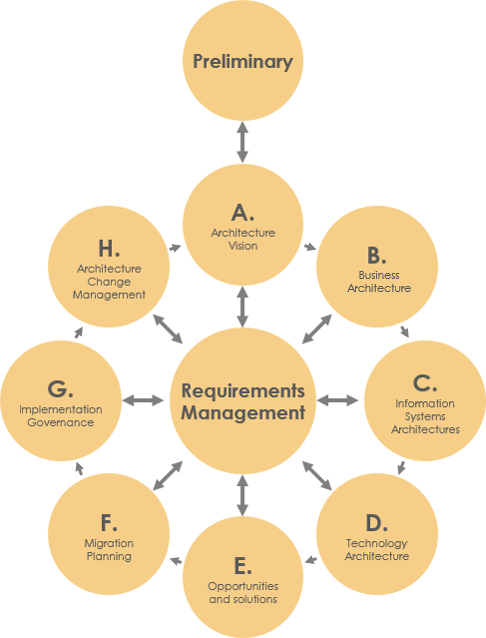 Starting from high-level concept diagrams and progressing to detailed domain architectures, solution architectures, architecture roadmaps, and implementation plans, the TOGAF ADM Framework provides a structured approach to your architectural journey.
Why You Need TOGAF Software
While enterprise architecture is essential, mastering it can be challenging. Visual Paradigm is here to simplify the process. Think of it as your personal tutor for enterprise architecture, available whenever you need it. Equipped with an intuitive ADM process navigator, Visual Paradigm guides you through each step, providing clear instructions and samples.
With Visual Paradigm, you can:
Seamlessly navigate the TOGAF ADM process step by step.
Generate deliverables with ease.
Automatically archive deliverables for future reference.
Understand TOGAF through provided samples.
Access essential tools and diagrams for analysis and documentation, including ArchiMate 3 diagrams, Implementation Plans, Migration Roadmaps, and more.
ArchiMate 3 Meets TOGAF ADM: A Powerful Combination
ArchiMate, a modeling language for Enterprise Architecture supported by certified tools like Visual Paradigm, complements the TOGAF framework. ArchiMate 3 empowers Enterprise Architects to describe, analyze, and visualize the relationships among business domains clearly.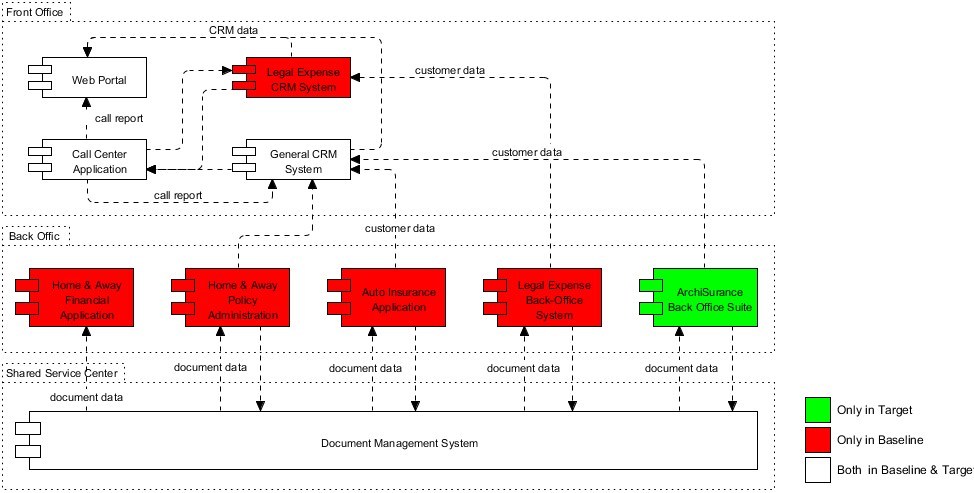 While TOGAF focuses on the process of developing and managing an enterprise architecture, ArchiMate 3 provides a structured modeling language. Together, they enhance the effectiveness of your architectural deliverables by combining formal models with powerful visualization capabilities.
Your Guide to a Smoother TOGAF Journey
The new version of ArchiMate 3 responds to evolving requirements, such as aligning business strategy with operations, integrating technology innovations, and expanding its usage to various domains like manufacturing and logistics. It ensures improved consistency, comprehensibility, and alignment with Open Group standards like TOGAF.
Choosing the Right Tooling for Your Enterprise Architecture
When searching for Enterprise Architecture tools, you'll likely encounter two options:
High-Priced Established Tools: While these tools offer structure, they come with a hefty price tag and require extensive customization.
Drawing Tools: Less costly, but they demand manual management and data juggling between multiple applications, such as Visio.
Many organizations face challenges in kick-starting their Enterprise Architecture practices. Visual Paradigm offers a solution by simplifying the process. Our guide-through process provides step-by-step instructions, input references, and samples. You can develop deliverables collaboratively with your team members, enhancing the entire process with automated task management and notifications.
Visual Paradigm offers two process management products:
Guide-Through Process: Ideal for well-defined methodologies, it guides you through phases, activities, and steps.
Just-In-Time Process: Perfect for dynamic processes, it offers maximum flexibility for tailoring the TOGAF framework to different project sizes and domains.
Form-Based TOGAF Deliverables Made Easy
Visual Paradigm provides an intuitive form-filling interface to complete TOGAF ADM effortlessly. Information entered is automatically archived as a document file, simplifying the process even further.
Are you ready to embark on your TOGAF journey with confidence? Visual Paradigm is your trusted partner every step of the way. Watch our video to see Just-In-Time TOGAF in action.
Transform your enterprise architecture with Visual Paradigm and TOGAF today!