Streamline Requirement Capture with Visual Paradigm's Comprehensive Tools
Are you tired of the time-consuming and error-prone process of gathering functional requirements for your software projects? Do you wish there was a more efficient way to capture and visualize your project's needs? Look no further! Visual Paradigm is here to revolutionize your requirements capture process and supercharge your system analysis efforts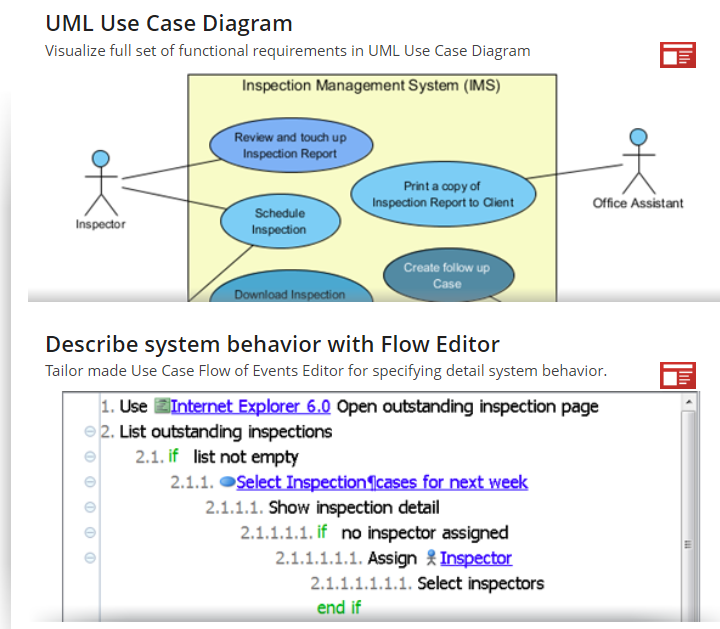 Capture Right Requirements at Once
When it comes to software development, getting the requirements right is paramount. Any misunderstandings or omissions can lead to costly delays and project complications down the road. Visual Paradigm understands the importance of capturing the right requirements from the start and provides you with the tools you need to do just that.
Use Case Diagrams for Clarity
Visual Paradigm allows you to create Use Case Diagrams effortlessly. This visual representation lets you map out the interactions between different actors and the system itself. With its intuitive interface, you can easily define the boundaries of your system, identify key actors, and establish how they interact with your software.
Visualize System Behavior with Use Case Flow
Describing system behavior can be a daunting task. Visual Paradigm simplifies this process with its Use Case Flow Editor. This powerful tool allows you to create detailed, step-by-step flowcharts that illustrate the various scenarios and interactions within your system. You can visualize how different use cases connect and understand the intricate logic that governs your software's behavior.
Comprehensive UML Diagrams for System Analysis
But that's not all! Visual Paradigm goes beyond just Use Case Diagrams and Flowcharts. It provides a wide range of Unified Modeling Language (UML) diagrams that cover every aspect of system analysis. Whether you need to create Class Diagrams, Sequence Diagrams, or Activity Diagrams, Visual Paradigm has you covered. These diagrams work in harmony to provide a holistic view of your project, ensuring that no requirement is left undocumented.
Efficient and Effective Requirement Capture
Visual Paradigm is designed to make the requirement capture process not only efficient but also highly effective. By using a combination of Use Case Diagrams, Use Case Flows, and UML diagrams, you can ensure that all functional requirements are captured accurately and comprehensively.
Why Choose Visual Paradigm?
User-Friendly: Visual Paradigm's intuitive interface makes it easy for both beginners and experienced professionals to create accurate and detailed requirements.
Comprehensive Toolkit: It offers a complete set of tools, from Use Case Diagrams to UML diagrams, ensuring that you can capture every aspect of your project's requirements.
Time and Cost Savings: By capturing requirements accurately from the start, Visual Paradigm helps you avoid costly rework and delays in your software development project.
Collaboration: Visual Paradigm supports collaboration, allowing your team to work together seamlessly to define, refine, and document requirements.
Don't let requirements gathering become a stumbling block in your software development process. With Visual Paradigm, you can streamline the process, capture the right requirements at once, and ensure the success of your projects. Try Visual Paradigm today and experience the difference in requirement capture and system analysis.