TOGAF 10: The Next Level of Enterprise Architecture Framework
TOGAF 10: What is New?
The latest version of The Open Group Architecture Framework, known as TOGAF Standard, 10th Edition, offers several enhancements to facilitate the adoption of best practices for enterprise architecture. This edition provides guidance on where to find enduring, universal concepts and proven best practices, as well as on emerging ideas that can help organizations stay at the forefront of their industries.
The TOGAF Standard is widely used by businesses of all sizes, government agencies, and non-governmental organizations. The 10th Edition includes greatly expanded guidance and how-to material that can help organizations operate in a more efficient and effective way across a broad range of use-cases, including agile enterprises and digital transformation.
The framework is designed to balance the need for common, universal concepts with the need for detailed configuration that can vary depending on an organization's specific needs. The document structure of the 10th Edition is tailored to provide architects with the guidance they need to deliver the best enterprise architecture that supports their stakeholders and their organization.
TOGAF 10 is divided into two parts: the TOGAF Fundamental Content and the TOGAF Series Guides. The Fundamental Content provides the essential scaffolding, while the Series Guides advise on how to configure the scaffolding to suit an organization's specific requirements.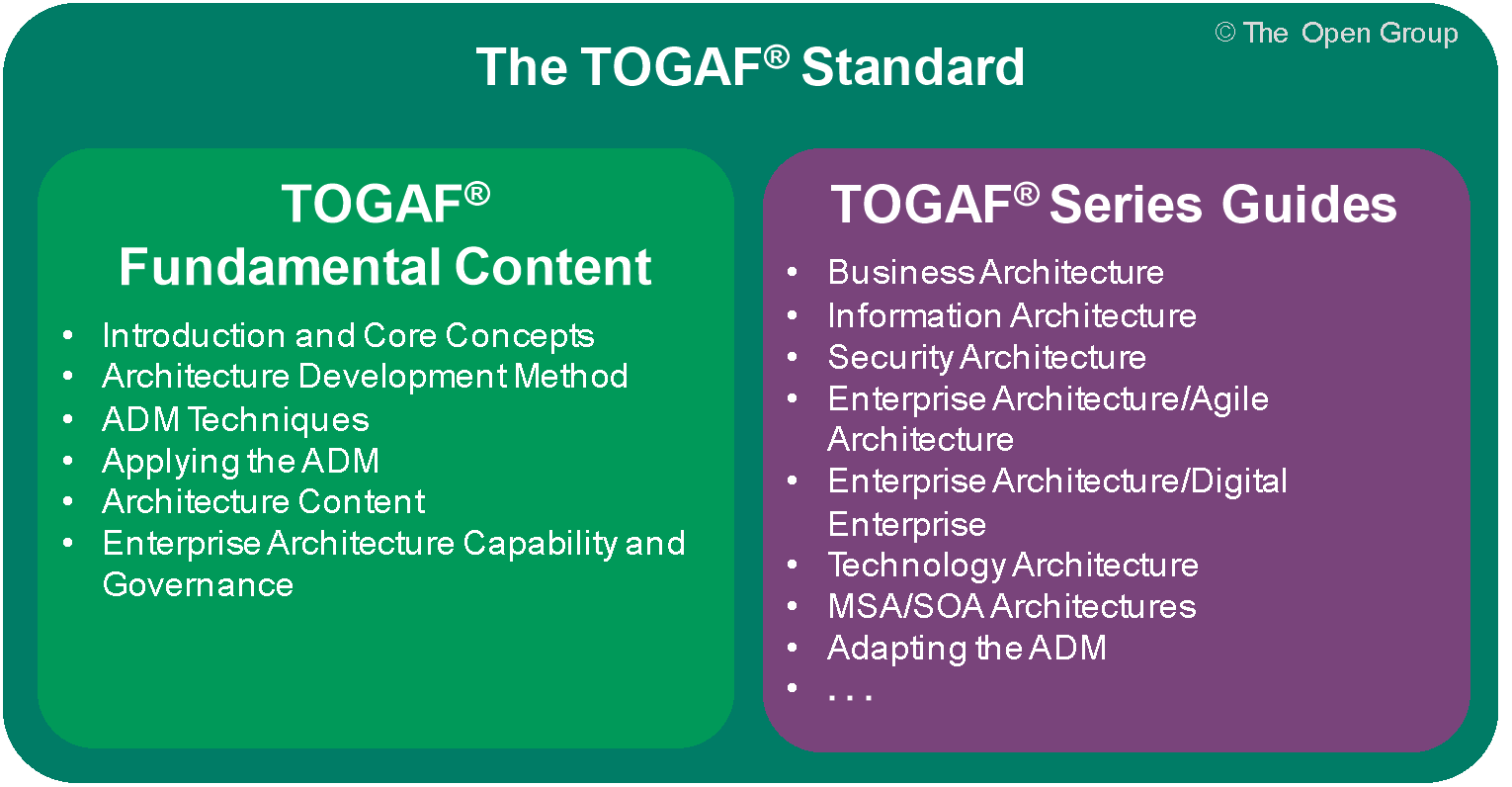 TOGAF is a framework that advises enterprises on how to implement an architecture that best supports stakeholders and the organization.
TOGAF 10 was created to make it easier for organizations to adopt and implement the framework to manage enterprise architecture.
The framework has been reformatted to be more streamlined, with an easy-to-navigate modular format and has been divided into two groups: TOGAF Fundamental Content and the TOGAF Series Guides.
The Series Guides portion of the framework includes expanded content that applies to business, information, security, enterprise, agile, digital, and technology architecture, as well as MSA/SOA architectures.
TOGAF offers a core framework that organizations can follow, but it's widely adaptable and customizable to an organization's unique needs.
The new modular format makes it easy for businesses to identify which Series Guides apply to their business needs and what parts of the framework don't apply to their current enterprise architecture environment.
TOGAF 10 has a stronger emphasis on agile methodologies and digital transformation to facilitate flexibility in addressing technical needs.
The framework has been updated to reflect the evolution of the enterprise architecture landscape and to maintain its core values of consistency, openness, and efficiency.
In summary, the TOGAF Standard, 10th Edition offers improved guidance and material that can help organizations of all types and sizes adopt best practices for enterprise architecture, and stay up-to-date with emerging ideas and technologies.