Unleash Your Creativity with Visual Paradigm Online Free Edition
Are you in search of a versatile and powerful Class Diagram tool that won't cost you a dime? Look no further! Visual Paradigm Online (VP Online) Free Edition is your go-to solution. This exceptional online drawing software doesn't just offer Class Diagram support; it also provides an array of essential features like UML diagrams, ERD tools, and Organization Chart tools. Here's why you should consider harnessing the power of VP Online Free Edition: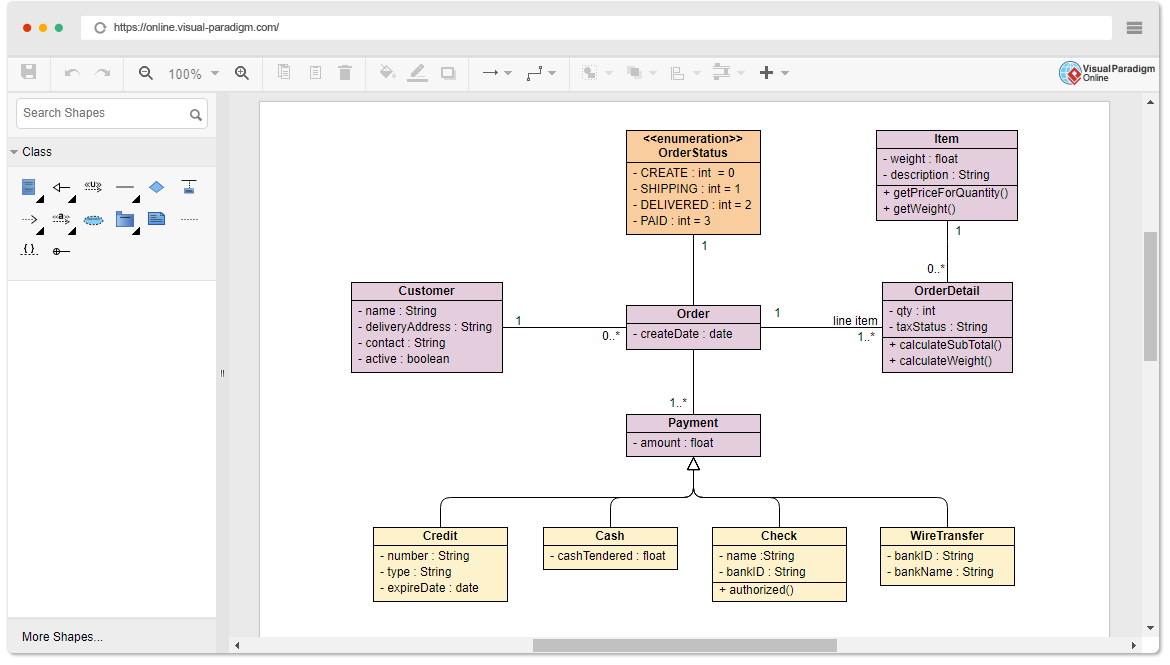 1. No Restrictions, No Strings Attached
VP Online Free Edition is truly free. No ads, no limited access period, and absolutely no restrictions on the number of diagrams or shapes you can create. You have complete ownership of the diagrams you craft for personal and non-commercial purposes.
2. Online Class Diagram Tool at Your Fingertips
Creating Class Diagrams has never been easier. VP Online Free Edition boasts a simple yet powerful editor that facilitates quick and effortless Class Diagram creation. With the freedom to draw as many diagrams as you desire, you can truly unleash your creativity. Plus, you can export your creations in various formats such as PNG, JPG, GIF, SVG, and PDF.
3. User-Friendly Features Galore
UML diagramming becomes a breeze with VP Online Free Edition. Here's a glimpse of the incredible features our Class Diagram editor offers:
Drag-and-drop shape creation.
Seamless connectors that stay firmly attached.
Inline editing of Class Attributes and Operations.
Customize your diagrams with your own shapes.
Access hundreds of diagram examples and templates for inspiration.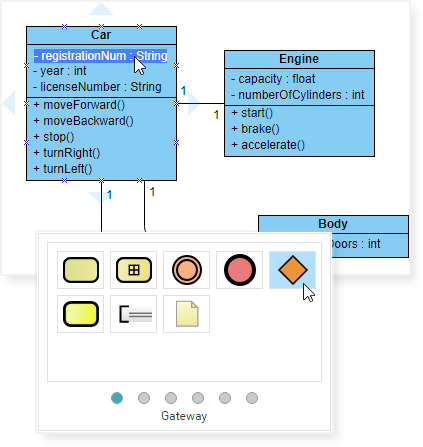 4. Precision and Style
Achieve diagram perfection with VP Online Free Edition's alignment guide. Format your Class Diagrams with ease using a range of formatting tools, including shape and line formatting, font styles, rotatable shapes, alignment options, distribution tools, image embedding, URL linking, and shadow effects.
5. Key Features and Benefits
Enjoy unlimited access with no time constraints.
Create an unlimited number of diagrams and shapes.
Explore various diagram types like UML, ERD, Organization Charts, Floor Plans, ITIL, and Business Concept Diagrams.
Upgrade to paid editions for access to more diagram types and advanced features.
Cross-platform compatibility (Windows, Mac, Linux) and support for all web browsers.
User-friendly interface with drag-and-drop functionality and connectors that effortlessly snap to shapes.
Diverse formatting options, including shape and line customization, connector variety, RTF captioning, font choices, shadow effects, and more.
Seamlessly import Visio drawings and stencils.
Freedom to embed text, external images, and web links within your diagrams.
Quick start with a wealth of diagram examples and templates at your disposal.
Easily print, export, and share your work in various formats (PNG, JPG, SVG, GIF, PDF).
Integration with Google Drive for enhanced collaboration and accessibility.
Visual Paradigm Online Free Edition empowers you to bring your ideas to life with precision and creativity. Don't miss out on this incredible opportunity to harness the full potential of a free, versatile, and user-friendly diagramming tool. Start creating stunning Class Diagrams and more with Visual Paradigm Online today!
Resources