Unlock the Future of Project Management with Visual Paradigm
Are you tired of the challenges that come with managing IT projects? Struggling to align deliverables with business goals? Frustrated with the lack of efficiency in your project management processes? Visual Paradigm has the solution you've been waiting for!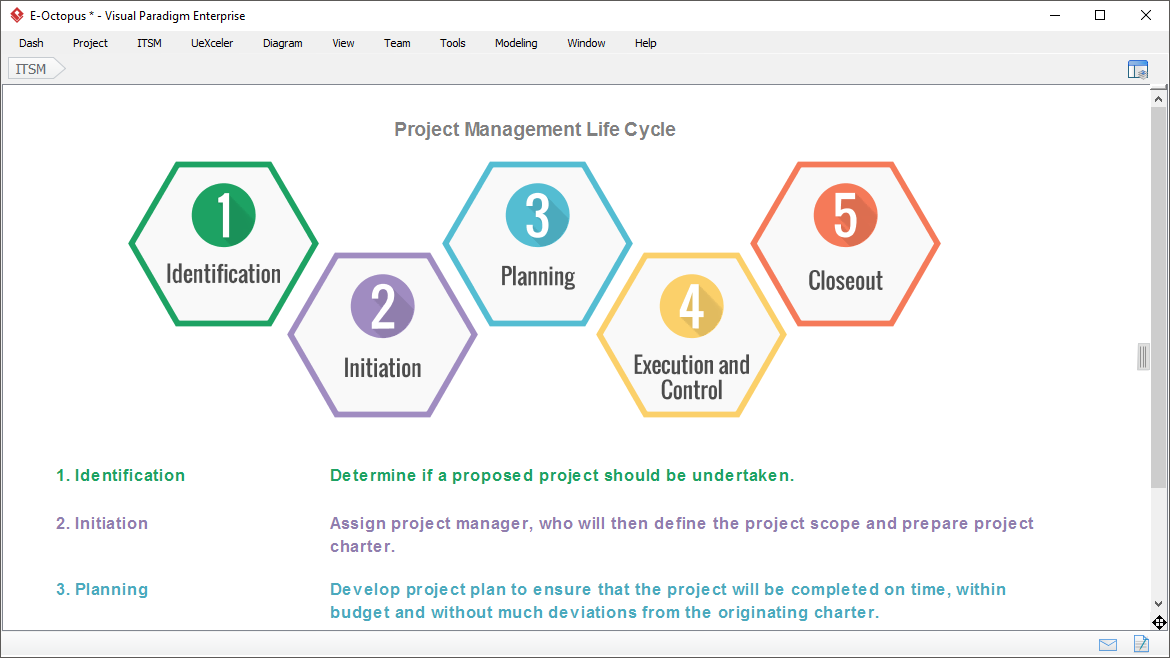 Introducing Visual Paradigm: Your Automated Project Management Partner
Visual Paradigm is not just another project management tool; it's your guide through the complex world of project management. Whether you're part of a Project Management Office (PMO) or overseeing IT projects of any size, Visual Paradigm empowers you to kick-start projects efficiently and achieve outstanding results.
The Visual Paradigm Advantage:
1. Automated Guide-Through Process: Say goodbye to the days of struggling to get your projects off the ground. Visual Paradigm offers an automated guide-through process complete with step-by-step instructions, input references, and real-world samples. This ensures that you and your team have the support you need at every stage of your project.
2. Collaborative Development: Visual Paradigm brings your team together for seamless, collaborative project development. Work incrementally with your team members to streamline the entire process. With automated task management and notifications available in both desktop and cloud environments, you'll never miss a beat.
3. Streamlined Project Management Lifecycle: Visual Paradigm aligns with industry-standard Project Management Lifecycles, including TOGAF ADM phase B. Our guide-through steps provide embedded instructions, samples, and project management forms to simplify even the most complex tasks. Harness the power of Organization Charts, PERT Charts, RACI matrices, and Work Breakdown Structures (WBS) to represent work elements and packages effectively.
4. Project Management Repository: No more hunting for scattered documents. Visual Paradigm offers a centralized repository to store all your project management artifacts, making it easy to access and reference them when needed.
Overcoming Your Challenges:
Difficulty Getting Started: Visual Paradigm removes the barriers to entry by providing clear guidance and support from day one. No more upfront investments, lengthy training sessions, or additional resources required.
Confidence and Maturity: Boost your team's confidence and maturity levels with Visual Paradigm's intuitive interface and comprehensive guidance.
Aligning Deliverables with Business Goals: Ensure your IT project deliverables are in perfect alignment with your organization's business objectives, thanks to Visual Paradigm's structured approach.
Standardization and Efficiency: Say goodbye to tedious, time-consuming processes. Visual Paradigm automates the creation of deliverables, saving you valuable time and effort.
Tailored Solutions: Visual Paradigm recognizes that one size doesn't fit all. Our solution adapts to the size and complexity of your projects, ensuring maximum efficiency and effectiveness.
Experience the Visual Paradigm Difference:
Visual Paradigm's unique Guide-Through Process offers a step-by-step path that keeps you on track and in control throughout your project's lifecycle. With easy visual modeling language support, stakeholders from different domains can collaborate effortlessly.
No matter how complex your project is, Visual Paradigm simplifies it with a structured "Identification" phase, helping you choose the most suitable process scheme.
Are you ready to revolutionize your project management approach? Try Visual Paradigm for free today and experience the future of automated project management software. Say goodbye to challenges and hello to success with Visual Paradigm!