Unlock the Power of Gane Sarson Diagrams with Visual Paradigm's Online Tool
Introduction
In the fast-paced world of business and technology, effective communication is key. When it comes to visualizing and understanding complex systems and processes, a well-crafted Data Flow Diagram (DFD) can make all the difference. Visual Paradigm introduces its Online Gane Sarson Diagram Software, empowering you to create professional DFDs effortlessly.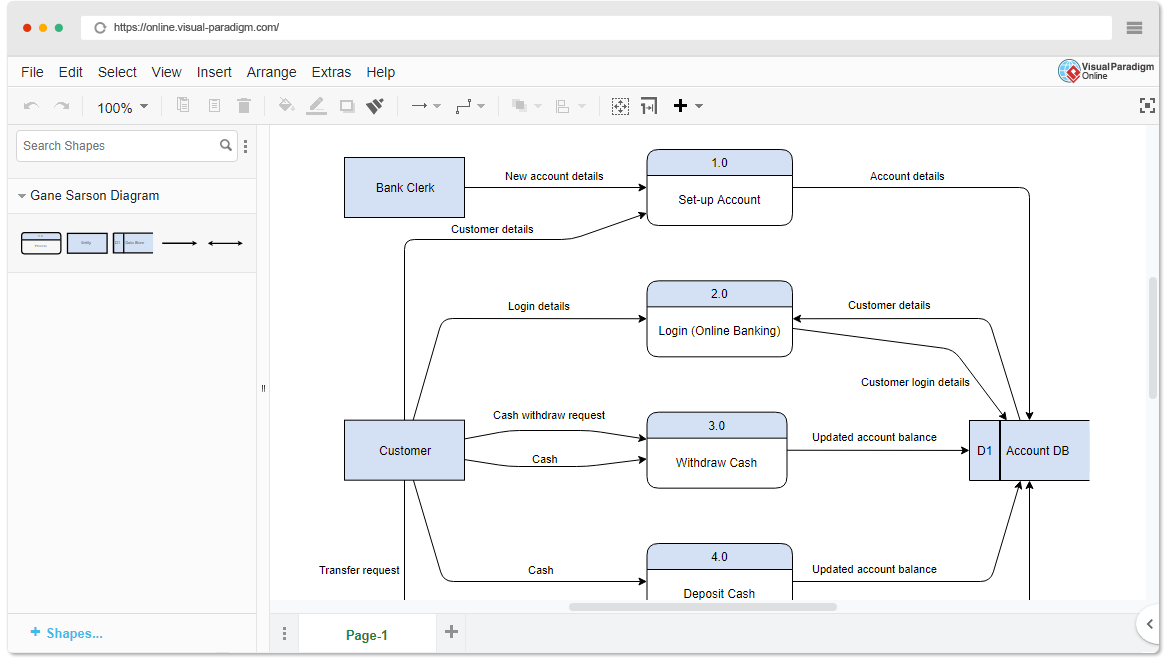 Why Choose Visual Paradigm's Online DFD Software?
Speed and Simplicity: Visual Paradigm's online DFD tool is designed for efficiency. Whether you're a seasoned professional or a beginner, creating Gane Sarson Diagrams is a breeze. Our intuitive interface ensures that you spend less time navigating through tools and more time crafting meaningful diagrams.
Comprehensive Symbol Library: No need to scour the internet for DFD symbols. Our software comes equipped with an extensive library of Gane Sarson symbols and connectors, allowing you to accurately represent every element of your system. From processes to data stores, we've got you covered.
Versatility with Notations: Whether your preference is Gane Sarson, Yourdon and Coad, or Yourdon DeMarco, Visual Paradigm's online DFD tool accommodates all major notations. Choose the one that suits your needs, and seamlessly create diagrams that align with industry standards.
Rich Template Collection: Don't know where to start? We've got you covered. Visual Paradigm provides a rich set of DFD templates to kickstart your diagramming process. Whether you prefer a blank canvas or a pre-made template, you can begin your journey with just a click.
How to Get Started:
Visit Our Website: Head to Visual Paradigm's website and access our Online Gane Sarson Diagram Software.
Choose Your Notation: Select your preferred notation—Gane Sarson, Yourdon and Coad, or Yourdon DeMarco. Our tool adapts to your choice seamlessly.
Pick a Template (or Start Blank): Browse through our collection of DFD templates, or start with a blank canvas. The choice is yours.
Edit and Customize: Click the "Edit" button, and you're ready to dive in. Our user-friendly interface allows you to drag and drop symbols, connect elements, and customize your diagram to perfection.
No Registration Required: We value your time. Enjoy the freedom to create without the hassle of pre-registration. It's free, it's efficient, and it's designed for you.
Experience the Future of DFD Creation:
Visual Paradigm's Online Gane Sarson Diagram Software is not just a tool; it's a catalyst for effective communication and streamlined processes. Whether you're a business analyst, system designer, or a project manager, our tool empowers you to bring your ideas to life with clarity and precision.
Unlock the potential of your diagrams.
Try Visual Paradigm's Online DFD Software today and witness the transformation of your visual communication. It's time to make Gane Sarson Diagrams with confidence and ease.
Learn by Examples