Unlock the Power of Visual Paradigm: Your Ultimate Solution for Online Diagrams
Are you tired of struggling with complex software and tedious installations just to create diagrams? Visual Paradigm is here to revolutionize your diagramming experience. Say goodbye to clunky desktop setups and hello to effortless cloud-based diagram creation and team collaboration.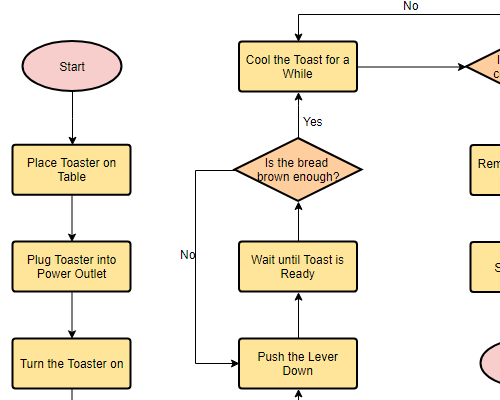 Zero Setup & Configuration, All in the Cloud
Visual Paradigm takes the hassle out of diagramming. With our cloud technology, you can start creating diagrams instantly, without the need for any time-consuming installations or configurations. Your team can collaborate seamlessly, no matter where they are located, thanks to the convenience of online diagrams. (*Please note that online diagrams are currently not compatible with most UML Desktop Modeling Diagrams.)
Intuitive Drag-and-Drop Editors
Gone are the days of struggling with complicated diagramming tools. Visual Paradigm's convenient drag-and-drop editors make creating diagrams a breeze. Whether you need to design business, technical, or general diagrams, we've got you covered. With over 100 diagram types to choose from and 1000+ ready-made templates, you'll find everything you need to kickstart your project quickly.
Accessible Anywhere, Anytime
Visual Paradigm is web-based, ensuring it works seamlessly across different web browsers and platforms. You can access your diagrams from your desktop, laptop, tablet, or even your smartphone. Say goodbye to compatibility issues and hello to the flexibility of web-based diagramming.
The Best Visio Alternative
Looking for a cost-effective alternative to Visio? Visual Paradigm not only matches its features but also beats it in terms of pricing. You'll get the power of professional diagramming tools without breaking the bank.
Seamless Integration with MS Documents and Presentations
Integrating your diagrams into Microsoft documents and presentations has never been easier. Visual Paradigm allows you to embed your diagrams directly, ensuring your visuals are always up to date. Say goodbye to the hassle of exporting and importing diagrams for display and quick editing.
Visual Paradigm is your all-in-one solution for online diagrams. Experience the future of diagramming with zero setup, powerful features, and unbeatable pricing. Don't waste any more time with outdated tools – make the switch to Visual Paradigm today and unlock the full potential of your diagrams.
Get started with Visual Paradigm and take your diagramming to the next level.