Unlock Your Creative Potential with Visual Paradigm Community Edition – Your Free UML Tool
Are you ready to take your UML modeling to the next level? Visual Paradigm Community Edition is here to revolutionize your design journey. We'll show you why Visual Paradigm is the UML software of your dreams.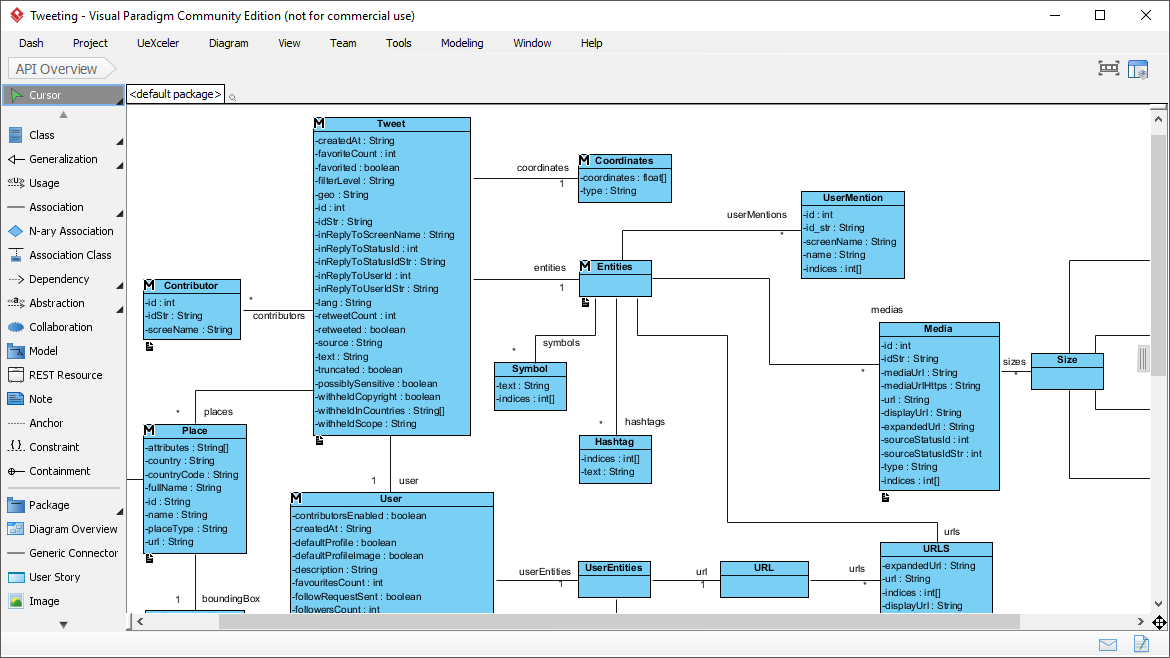 Everything You Need, In One Place
Visual Paradigm Community Edition is your one-stop solution for all your UML modeling needs. Whether you're a seasoned professional or just starting out, we've got you covered.
UML Support – Draw ANY of the UML2 Diagrams
With Visual Paradigm, you can effortlessly create any UML2 diagram you need. Our user-friendly interface makes it easy for you to translate your ideas into stunning visual representations. Whether it's class diagrams, use case diagrams, sequence diagrams, or any other UML2 diagram, Visual Paradigm has you covered.

Modeling Capability – Reusable Elements, Syntax Checking, Sub-Diagrams, and More
We're not just another drawing tool. Visual Paradigm is a real modeling software that empowers you with the tools you need to design with precision and accuracy. Enjoy the benefits of reusable elements, syntax checking to ensure correctness, and the ability to create sub-diagrams for multiple levels of abstraction. Your designs will be more efficient and reliable than ever before.
Efficiency – We Care About Every Click and Drag
At Visual Paradigm, we understand the importance of efficiency. That's why we've designed our software to minimize unnecessary clicks and drags. We want your modeling experience to be smooth, productive, and enjoyable.
Cross Platforms – Modeling Anywhere, Anytime
Whether you're on Windows, Mac OS X, or Linux, Visual Paradigm is there for you. Our software is compatible with all Java-enabled platforms, ensuring that you can model seamlessly no matter where you are.
Resource Catalog – Your Secret Weapon for Quick UML Diagrams
Creating UML diagrams has never been easier. With just a few clicks of your mouse, you can craft stunning diagrams in record time. The Resource Catalog is your secret weapon for maximum efficiency and top-notch quality. Visual Paradigm is designed with you in mind, ensuring that every aspect of your design journey is as seamless and high-quality as possible.
Real Modeling Tools – We're Not Just a Drawing Tool
Visual Paradigm is more than just a drawing tool; it's a comprehensive modeling software. Reuse elements in different models, ensure design correctness with syntax checking, create multiple levels of abstraction with sub-diagrams, and add references to design artifacts. If you've ever used a real modeling software, you'll appreciate how much it can elevate your modeling work.
Resource Catalog – Element Referencing at Your Fingertips
Visual Paradigm is a full-featured UML software that enables you to establish linkages among UML model elements and external resources like webpages and physical files. Seamlessly integrate your design elements and references for a holistic modeling experience.

In conclusion, Visual Paradigm Community Edition is your go-to UML tool for a reason. It combines the power of UML support, efficient modeling capabilities, cross-platform compatibility, and a resource catalog that streamlines your workflow. Elevate your UML modeling experience with Visual Paradigm today and unlock your creative potential like never before. Try it now and experience the difference for yourself!