What is the TOGAF architecture framework? What does TOGAF stand for?
TOGAF, short for The Open Group Architecture Framework, is a proven Enterprise Architecture methodology and framework used by organizations around the world to improve business efficiency. TOGAF provides an approach to Enterprise Architecture development, with a clear set of rules on organizational development designed to help enterprises achieve goals in a quick and cost-effective manner.
History of TOGAF
TOGAF was developed in 1995 by The Open Group, based on the United States Department of Defense's TAFIM and Capgemini's Integrated Architecture Framework (IAF). Here is a timeline of TOGAF:
Early 1990: Initiated as a methodology for the development of technical architecture, and has been developed by The Open Group into an extensive enterprise architecture framework.
1995: TOGAF 1.0 presented. This version was mainly based on the Technical Architecture Framework for Information Management (TAFIM). Development started in the late 1980s by the US Department of Defense.
December 2001: TOGAF 7 (the Technical Edition) was published.
December 2002: TOGAF 8 (the Enterprise Edition) was published.
December 2003: TOGAF 8 is republished in an updated form as TOGAF 8.1.
2005: TOGAF became a registered trademark of The Open Group.
November 2006: Release of TOGAF 8.1.1.
April 2018: TOGAF 9.2 released.
As of 2016, The Open Group claims that TOGAF is employed by 80% of Global 50 companies and 60% of Fortune 500 companies.
What is TOGAF's approach to Enterprise Architecture Frameworks?
TOGAF helps enterprises organize and address all critical business needs through the following goals:
Ensuring all stakeholders (including business stakeholders, customers, enterprise architects, etc speak the same language). This allows everyone to understand the business goals and problems in the same way, gets the entire enterprise on the same page, and provides everyone with a common group for communication.
Avoid being "locked-in" to proprietary solutions for enterprise architecture. The framework is free as long as the company uses it internally and not for commercial reasons.
Saving time and money.
Obtaining a tangible return on investment (ROI).
TOGAF's enterprise architecture domains
TOGAF specializes a business into four architectural domains:
Business architecture: defines business vision, goals, strategy and organization, key business processes, and governance and standards.
Data architecture: defines the structure of logical and physical data assets and the resources for data management.
Applications architecture: defines how individual systems should be deployed, which includes the interactions among application systems and the relationships to essential business processes.
Technical architecture (aka. as technology architecture): defines the hardware, software, and network infrastructure needed to support the deployment of applications.
Why TOGAF is important
Let's split this question into two:
Why do I need an enterprise architecture framework?
Why do I need TOGAF? What are the benefits of using TOGAF? Why TOGAF is good for organizations?
An enterprise architecture framework provides a standard approach to organizing architectural assets. Here are some reasons why you need an enterprise architecture framework:
Speeds up and simplifies architecture development
Ensure more complete coverage of the problems and proposed solution
Ensure that the architecture is scalable that allows for future growth in response to the change of business needs.
So, why is TOGAF important?
TOGAF is recognized as the most popular practice for enterprise architecture. Here are some of the benefits by using TOGAF:
TOGAF helps you understand how to combine architecture development with business strategies, solution design, IT development, implementations, and project management through the use of the TOGAF ADM (Architecture Development Method).
Good understanding on how to integrate architecture governance with IT governance.
Techniques and artifacts that can be adapted to meet IT and architecture needs.
Who uses TOGAF
According to The Open Group, 60% of the Fortune 500 companies have adopted TOGAF® as their standard.
What is TOGAF ADM
The TOGAF Architecture Development Method (ADM) forms the core of TOGAF. It is a step-by-step process for guiding the development or transformation of enterprise architecture. Much of the TOGAF documentation covers the ADM, and everything else in TOGAF can be mapped back to the ADM.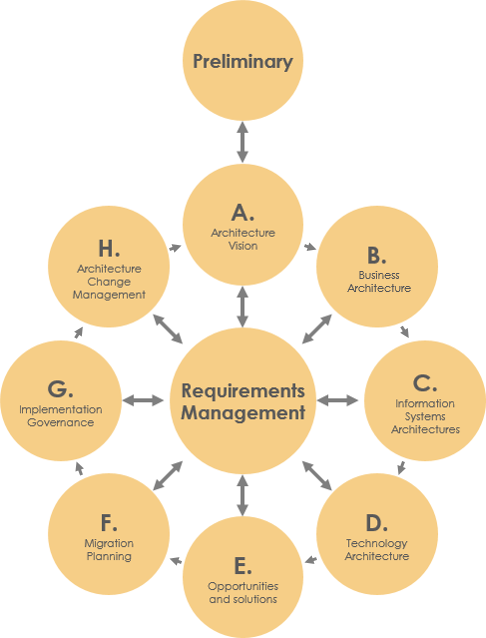 Any TOGAF software? Why TOGAF software?
TOGAF can be difficult to understand and apply. A good TOGAF software will not only help you adapt TOGAF, but also help you speed up the architecture development cycle, streamline the process, and ensure that processes and artifacts other resources are well organized and reusable in the future.
There is little TOGAF software on the market, while Visual Paradigm is one of the most commonly used TOGAF software used by many companies around the world.

Visual Paradigm supports enterprise architecture with TOGAF by offering three main features:
TOGAF ADM Guide-Through: An ADM process management tool that guides you through the activities of an ADM cycle. Each activity requires you to perform certain actions, which include but are not limited to form filling (e.g. create a Statement of Architecture Work) and diagram creation (e.g. create a Work Breakdown Diagram). The information entered is consolidated in forming the TOGAF deliverables.

Just-in-Time TOGAF Process Map: A matrix of TOGAF activities. Each activity involves a set of steps, and each step consists of action item(s) you need to perform to get the activity done.

ArchiMate modeler: Create enterprise architecture models using Visual Paradigm's ArchiMate diagram tool. Certified by The Open Group, Visual Paradigm features an ArchiMate modeling tool that is targeted toward all levels of enterprise architects and enterprise modelers, supporting architecture design needs with all the vocabulary, notation, syntax, and semantics of the ArchiMate 3.1.

Visual Paradigm is a full-featured modeling platform for creating ArchiMate models and other diagrams. It is used by Enterprise Architects from all over the world. Here is a shortlist of things you can do with Visual Paradigm:
Create ArchiMate diagrams

Access to a full set of ArchiMate notations
Use ArchiMate viewpoints
Ensure the correctness of modeling syntax with syntax checking on-the-fly
Easy-to-use drag-and-drop ArchiMate editing tool
Quick diagram creation with the Resource-Centric interface
Precise positioning of shapes with alignment guide
Inline shape editing
Alignment and distribute functions
Rich set of formatting options

Maintain ArchiMate model

Group ArchiMate models by packages / model shapes
Model traceability

Team collaboration

Work with the EA teams and other modelers concurrently and collaboratively with team collaborative features
Keep revisions for your ArchiMate diagrams
Smart conflict resolution for conflicted changes

Publishing / Sharing

Publish and share ArchiMate diagrams online
Export diagrams as image files

Document creation
Coverage of additional model types
TOGAF support

Visual TOGAF ADM process map with actionable work items
Produce deliverable as you progress through the enterprise architecture development cycle
Additional Enterprise Architecture toolset
Download TOGAF software
Visual Paradigm comes with 30 days trial period. You can visit our download page to download Visual Paradigm.